Requirements
You must have a current motorcycle endorsement, as well as a legally insured and registered motorcycle.
You must also have current health insurance and sign a liability waiver.
Have at least at least a season (3,000 or so miles total) of riding experience. This is not a course for raw beginners. Students are wise to take the MSF Basic RiderCourse or have an equivalent level of skill before signing up.
You gotta wear full gear (see below).
What to Bring
Riding Gear (required at all times)

DOT-approved helmet
eye protection (windshields do not count as eye protection)
long pants (armored motorcycle pants preferred)
full coverage gloves
sturdy, over-the-ankle boots.

Communicators: If you have an existing Bluetooth communication system, please keep it in your helmet, as we may be able to pair systems.
A 16gb or larger USB thumb drive for transferring video
Skill Level
PRIVATE training days can be customized based on your skill level that will ensure satisfaction. A minimum of 3,000 miles of street experience is required.
GROUP training follows a curriculum, which means that you will be paired with two other riders who may be at different levels of ability. The curriculum is appropriate for all "experienced" riders, but you must be patient with your fellow students as their skills develop.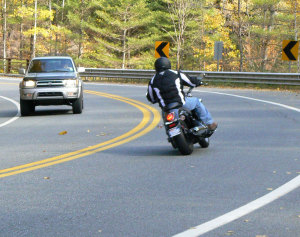 Speeds
We will be riding at moderate street speeds and enjoying a street ride through some beautiful countryside with awesome twisty roads. If you want to learn to ride fast in a safe environment, I am available for Track Day Personalized Instruction at Tony's Track Days.
What You'll Learn
Slow Speed Maneuver Techniques
Emergency Braking and Swerving
Visual Targets
Lane Position
Body Position
Cornering Precision

Cornering Lines
Timing
Identify visual clues to increase cornering safety and confidence
Where Will We Ride?
We will be touring around my little bit of motorcycling heaven in the Berkshire Hills of Western Massachusetts and southern Vermont. The beautiful Berkshire foothills have miles and miles of awesome motorcycling roads.
Rides will meet in or nearby Ashfield, MA.
NOTE: There is no cell service in Ashfield to speak of.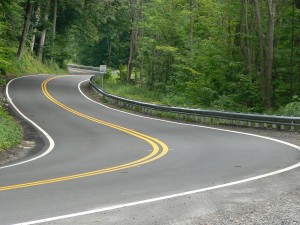 This is what you can expect when riding in the Berkshire Hills.

View Larger Map
---
Lodging and Food
Lodging and meals are not included one day courses. I highly recommend staying the night before (and/or after) at the Red Roof Inn in South Deerfield, MA .
Weekend tours include Saturday night stay at the Red Roof Inn, but you may want to book additional nights before and after the day(s) if coming from a distance.
---
---
What to Expect:
-Morning Briefing:
Each day would start with a safety briefing, waiver signing, etc. We will also outfit your helmet with the Bluetooth communicators (one-on-one and one-on-two students only).
-Parking Lot Drills:
A warm up and a way to practice some of the techniques we will be using throughout the day.
-On-Street Tour (4-5 hours)
Now, for the fun part where we will go for a ride.
-Scheduled Breaks
We will take regular breaks so we remain fresh and we will also enjoy a  lunch to discuss our day.
-Debriefing/Video Review

To end our session, we will sit down and talk. I will show you the video that I took. We can also discuss your riding and the next steps you can take toward more riding enjoyment and safety.
-2 Day Group Tours:
Laughs and  discussion over dinner and dessert. Second day begins with video and briefing with more parking lot drills and then a full day ride.
---
---
Tours are available on weekdays and weekends. Contact me to discuss your needs.
---
Riding in the Zone, LLC is a supporter of the American Motorcyclist Association