The ability to lean a motorcycle with confidence is a fundamental part of riding. Unfortunately, humans do not come hardwired to lean much more than about 20 degrees, which is the lean angle where we start to lose traction  when we run in a circle on grass or dirt. Motorcycle riders must get beyond this lean angle limit for even basic maneuvers. This requires a leap of faith that the tires will grip. Practice is important to train your mind and muscles to lean beyond your comfort zone so you will be able to lean more if necessary. Once greater lean angles become more comfortable, the next skill to refine is timing so you reach maximum lean angle at the right point in the corner.
---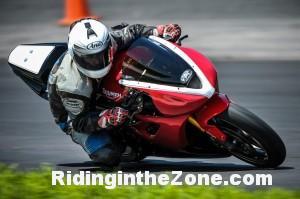 Meet Paul Duval
Paul Duval is the latest RITZ guest writer. Paul is a fellow track day and MSF instructor, former Loudon Road Racing Series 125 GP Champion, and professional educator. Let's listen to Paul's take on the importance of accurately timing maximum lean angle.
---
Timing Maximum Lean Angle
After many years of racing and instructing on the racetrack, there is one persistent mistake I see riders make when trying to ride faster: Using too much lean, too late in the corner.
Who is making this mistake?
Everyone is susceptible to this problem. Novice and intermediate track day riders often make the mistake of  increasing lean angle late in the corner in an attempt to get their knee down. Especially vulnerable riders are those with a lot of "natural talent" who got fast so much more quickly than everyone else. They end up riding fast, but without the knowledge and precision necessary to manage that corner speed.
What's the Problem?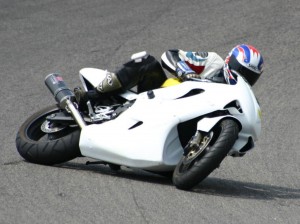 You may say, "What's the big deal, I'm knee down and cranking?!" Yes, you may be fast, but this mistake WILL eventually lead to a crash, and probably a BIG one.
The problem with reaching max lean angle well after the apex of a turn is that this is precisely where you want to be on the gas.  Other riders will be already picking the bike up and driving hard.  This will encourage you to match their drive, but you are still adding lean angle.
Remember this:  Adding lean angle AND throttle at the same time is how high sides happen. The opposing forces of changing direction and accelerating can easily exceed available traction and will cause the rear tire to slide.   When this happens, slides are extremely quick, unpredictable, and hard to recover from.  All of your momentum is going exactly the wrong way.
Why do I keep doing this?
There are a few reasons people make this mistake.
– Weak countersteering skills:  Newer riders haven't yet mastered the "quick turn" technique of using counter steering to get the bike leaned over.  They bend their motorcycle into the turns gradually and often pass the apex entirely before the bike has changed direction.  Now they are running out of real estate and HAVE to lean it over to finish the turn.
– Lack of reference points:Beginner and Intermediate track riders often use other riders as their reference points. This leads to a lot of crazy entry lines, none of which help the rider get the bike to change direction before the apex.  They commonly ride around the entry point as well as the apex, then crank the bike over to finish the turn.
– Charging the corners:  Faster riders who make this mistake are at the most risk.  They rush into the corner at a pace that does not allow them to consistently hit their marks.  They will blow by a tip in point, drift wide past the apex, and then attempt to recover to get back on the "fast" exit line by adding a little more lean and a little more throttle.
Even with all this effort, they wonder why the faster guys are still pulling away.  They aren't even cranked over like I am!!!  Hmmmm???  You may get away with late lean angles for a while, but eventually, you will push this mistake too far. Highside city.
The Solution?
The correction for all these riders is pretty similar.  And it's not what they want to hear:  SLOW DOWN your corner entry to a speed that you can actually handle.  I mean a speed at which you can identify reference points, and ride an accurate line from tip in to apex that allows you to OPEN the corner after the apex, rather than tighten it up.  You need to learn to time your throttle inputs and your lean angle so that as you drive out of the corner and standing the bike up progressively as you roll on the gas.  BRAAAAP!  Wheee!
---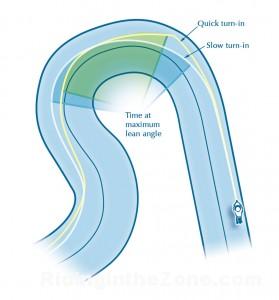 Ken:
Thanks Paul. Paul mentioned the importance of being able to turn quickly. By being able to countersteer with authority, you are able to get your motorcycle from upright to leaned so that the majority of the direction change is complete BEFORE the apex. With the change in direction mostly complete, you can reduce lean angle as you roll on the gas. Traction is managed and all is well. Post your comments below.
---
Please Donate to Keep the Articles Coming
If you liked this article and the many other articles on this site, please toss a buck or five into the hat. It's greatly appreciated!
Click the PayPal "Pay Now" button.
Then indicate quantity in $2.00 increments. – Example: put "2" in "QUANTITY" field to donate $4.00, "3" for a $6.00 donation, etc.
Why $2.00? Due to the PayPal fee structure, a $2.00 donation is significantly more beneficial compared to a $1.00 donation.

Thank You!
---
Check out these related posts:
---
Support Riding in the Zone: Buy a book