Learn Advanced Street Riding Techniques in
Real-World Conditions
Advance and refine your riding proficiency with Group on-street training.
Learning and fun is enhanced as students learn from each other. Your "classroom" is the uncrowded, scenic roads of Western New England.
Group training tours are a social experience where you share the tour with like-minded riders and learn as a group. The tour is for 3 riders.
3:1 student-to-coach ratio
Group On-street training is done at real world speeds and conditions. Provided Sena Bluetooth helmet communicators allow immediate and meaningful coaching in real-time.
What You'll Learn
Cornering Precision
How to Read the Road
Effective and safe Cornering Lines
Lane Positioning
Slow Speed Maneuver Techniques
Emergency Braking
Visual Targets
Body Position
---

Here is a sample of some real-time coaching using Bluetooth communication.
---
1 Day Group Training Tour
A limited number of ONE DAY group training courses are available.
Limited to three participants.
Cost
1 Day Tour: $600 per rider (does not include lodging or meals)
Scholarships are available through the BMW/MOA Foundation.
See available One-day courses above.
This two day training tour increase your safety and confidence while touring the beautiful Berkshire Hills of Western Mass and Southern Vermont. Includes Saturday Dinner and Saturday night lodging.
Includes:
Personal training with real-time coaching using on-bike communicators
Tour through the hidden Berkshire hills of Western Massachusetts and Southern Vermont.
Video review/discussion during lunch stop and at the end of the day
Dinner and Saturday night stay and Sunday breakfast
Video of our day (Please bring your own 16gb+ flash drive)
Scholarships are available through the BMW/MOA Foundation.
---
Ready to Sign Up?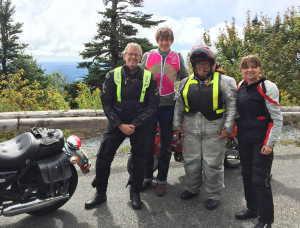 Since we start our day at 8:30, you may want to book a room the night before (on your dime). And maybe the night after, since we end around 5:00.
Most students stay at the Red Roof Inn in South Deerfield, MA.
For Private Training, Contact Ken to discuss training dates and Payment Methods. Click HERE to See Available Training Dates
Sponsors/Partners
---
Larger Group Training Tours (1 or 2 day tour option)
Not available in 2021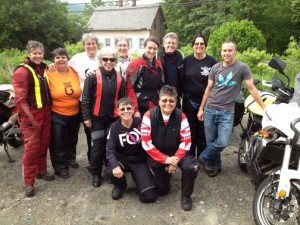 This is a custom option for larger groups of 8 or more.
Do you have a larger group of friends who would like to train together while having a great time touring the beautiful Berkshires? This is a great option. One or two day tours are available. Dates can be accommodated on request.
This tour does not include Bluetooth communication, but does include the attention of staff who will address individual needs.
Contact Ken to discuss scheduling your event.
1 Day Group Tour: 3+ riders: $275 to $375/day per rider depending on group size (does not include lodging or meals)
Discounts apply for returning RITZ or Stayin' Safe students. Contact Ken
Scholarships are available.  Many insurance companies accept the Riding in the Zone completion certificate as proof of rider training that is eligible for insurance discounts.
Participants pay for dinners and any lodging with private training.
---
Other Training Programs
Track Day Training for Street Riders
---
Riding in the Zone, LLC is insured by the Philadelphia Insurance Companies.

Riding in the Zone, LLC