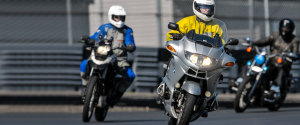 We understand things sometimes come up that are beyond your control that may prevent you from attending your track day.  Depending when you notify us, we will do our best to help you out.
However, it's important to understand that there are only a certain number of spots we sell to each track day. We have a formula using the cost of the track and how many riders can safely fit on the track at one time – and then decide how many spots to sell. When you buy a spot, then that spot is yours for the day.  (Similar to reserving a plane ticket)
---
Rider Cancellation Policy
If you cancel at least 30 days before the event:
We will provide a full refund MINUS $10.00 PayPal fee.
If you cancel within 30 days before the event:
There are NO REFUNDS closer that 30 days before the event.
If you are unable to attend an event, we encourage you to attempt a private sale or transfer first. The New England Riders facebook group is a great place to try and sell track day spots last minute. There is no fee when you arrange to transfer your day to another rider.
From 8 to 14 days before the event:
For a $50 fee, you are eligible to bank your original payment amount. NOTE: depending on the situation, we may waive or reduce this fee – so feel free to contact Ken first.
Less than 8 days before the event:
No Refund or credit. Sorry.
However, if there is a waiting list, we will transfer your spot to another person. If we are unable to transfer your spot, there will be no credit.
Remember –  you may sell or give your spot to someone else to avoid any fees. contact Ken if you are transferring your spot to someone else (We need their name)
---
We run RAIN or SHINE!
You learn A LOT riding in the rain!
Sure, we all wish for a warm, dry day, but there is a ton to learn during a wet track day.  The actual riding techniques do not change – everything is simply done at a lower speed. Bring rain gear.
The track charges us whether it is raining or not. So, we cannot give refunds because of rain.