A MCN reader recently wrote telling about his enthusiasm for Reg Pridmore's "body steering" method of initiating lean for cornering. What follows is my response.
---
"I have 44 years experience riding and currently ride six days a week commuting and sport riding. Three years ago I read Smooth Riding the Pridmore Way by Reg Pridmore. This book completely changed my knowledge of corning a bike. For years I subscribed to countersteering as noted in this article. The Pridmore way is to body steer the bike and keep your upper body relaxed and smoothly controlling throttle, clutch, and brake. It took me a few months to re-learn corning, but now I am much more proficient and safe on the bike. His book goes into the details why this is better and how to master these skills.  It is my opinion that there is an alternative to countersteering and I feel it is much safer to use the geometry of the bike versus fighting the physics of corning with the handlebars. "
---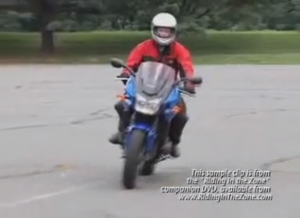 My response:
This discussion has been going on for over a decade and has even sparked an Internet rivalry between Pridmore and Keith Code, who advocates and emphasizes countersteering as part of the California Superbike School as the best way to initiate lean. Having ridden the CSS No BS bike (which has handlebars mounted rigidly to the frame with a working throttle), I can confidently tell you that body "steering" alone will not allow a rider to corner in any meaningful or effective way on a 400 to 800 pound machine. See the video of Code riding the No BS bike to see how little body position has on direction control.
Yes, body "english" can enhance many aspects of cornering process. I am a very big proponent of body positioning for both street and track riders to aid quicker turning, refine cornering lines, increase ground clearance, preserve traction, and allow the rider to interact more with the bike and the road. But, body positioning alone cannot cause the average street bike to initiate a corner efficiently or quickly enough. That is done by countersteering.
Countersteering uses the geometry of the bike to essentially unbalance the machine, causing it to drop into a lean. There are many other aspects of the process, but that's all most riders need to know. You mention the other important aspect of masterful cornering, which is relaxing the arms as much as possible once the lean is initiated and using smooth control inputs to maintain control.
I have no doubt that your revelation and enthusiasm for Reg Pridmore's fine book and teachings are genuine, but I can guarantee that you are using countersteering (in combination with body positioning) to lean your bike into a corner. What is happening is you have replaced some of the "handlebar only" countersteering inputs you have used routinely for many years with a body position technique that is "pre-loading" the bike for the corner.
This shift in the center of gravity causes the bike to fall into the turn easier, making it feel as if you are not putting any pressure on the handlebars. This is a technique taught by Lee Parks in his Total Control curriculum and which I teach to track day students. Next time you go for a ride, pay very close attention to the amount of pressure you are putting on the handlebars as you initiate lean. If you concentrate enough, you will surely notice that you are introducing handlebar pressure. Because there really is no alternative to countersteering, only reducing the amount of pressure needed.
Additionally, the act of moving your body in the direction of the turn causes handlebar inputs. You would have to consciously resist pulling the outside bar or pressing on the inside bar to eliminate any countersteering force, which would be very difficult to do.
I'm glad you feel more proficient. Keep doing what you're doing, but you'll be better off if you know what is really happening. Good luck.
Ken Condon
I received a reply from the reader. He is sticking with his belief that he is not countersteering.
Please share your thoughts below.
Listen to the Countersteering PODCAST
---
Please Donate to Keep the Articles Coming
If you liked this article and the many other articles on this site, please toss a buck or five into the hat. It's greatly appreciated!
Click the PayPal "Pay Now" button.
Then indicate quantity in $2.00 increments. – Example: put "2" in "QUANTITY" field to donate $4.00, "3" for a $6.00 donation, etc.
Why $2.00? Due to the PayPal fee structure, a $2.00 donation is significantly more beneficial compared to a $1.00 donation.

Thank You!
---
Check out these related posts:
See the video segment about countersteering from the RITZ DVD:


Support Riding in the Zone: Buy a book