Damn you, Polar Vortex!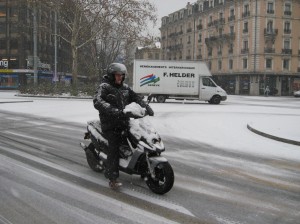 Nobody can deny that this winter has been a doozy! Even as March has arrived, it's well below freezing and the snow cover is still measured in feet where I live. Thankfully, the sun is noticeably higher in the sky and the days are longer, which points to the inevitable spring thaw.
This means that it's almost time to ride!
But, wait. Before you thumb the starter there are a few things you need to take a look at before your first ride of the season.
The first step is to make sure your bike is ready to roll. Next up is the importance of getting your mental and physical skills in shape for the new season.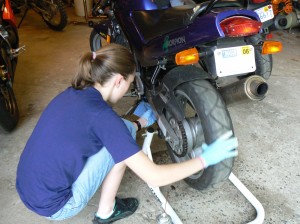 Bike Prep
Here's a quick list of pre-season maintenance tasks. I'm not going to go into detail about how to perform these duties, because that would be a very long post. Most of these things are covered in your owner's manual. If you do not feel comfortable tackling these projects, find an experienced friend to help you with any of these jobs that you can't do yourself.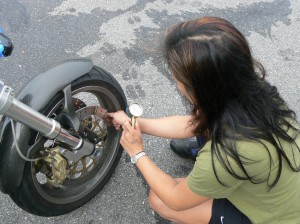 Do these things:
Charge your battery
Check your air filter
Check your tire pressures and condition
Check your drive system
Change your oil and filter
Check your brake pads and fluid
Check your lights
Put a wrench to all fasteners
Lube cables
Wipe her down, Start her up!
Mental Maintenance
After you've taken care of the motorcycle, then the next thing to give some attention to is your mental and physical skills.
With all the anxious anticipation of the first ride of the season, it's easy to forget that motorcycling is a challenging endeavor that requires you to be on top of your game. Starting your riding season without considering the consequences of rusty skills could end your season prematurely.
If you're like me, you've probably been spending the winter months getting around town behind the wheel of a car. This can cause you to forget that your survival instincts and riding "edge" are dulled. It's easy to become oblivious to motorcycle issues like visibility or road surface hazards when you've been off the bike for a while.
It's likely that you haven't been too concerned about being seen by others the way you are when riding your bike, because it's easier for others to see you when you're driving a 3-ton vehicle. Now is the time to get that mental radar fired up so you can deal with all the distracted and complacent drivers. Remember that drivers haven't seen bikes on the road for several months or weeks and won't be looking for you.
Also, you probably haven't been too concerned about road surface hazards, because most surface conditions are of little concern when you have four wheels beneath you. Get your road surface sensors sharpened before you roll out of your driveway.
Thawing Your Skills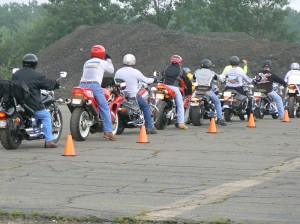 Some riders begin their season by taking a refresher course with their local motorcycle-training program, which usually offer the Motorcycle Safety Foundation (MSF) suite of courses. Others take some time on their own to brush up on their emergency skills in a parking lot, but most simply take it easy until the cobwebs blow away.
Whether you choose to attend a formal rider course or go it alone, I recommend that every rider practice critical skills by performing some cornering and braking drills.
Skills are perishable, which means you have to keep practicing whenever you can. Not just at the beginning of the season! That's why I include drills in my Riding in the Zone book and DVD.
Subscribe to the mailing list!
---
Please Donate to Keep the Articles Coming
If you liked this article and the many other articles on this site, please toss a buck or five into the hat. It's greatly appreciated!
Click the PayPal "Pay Now" button.
Then indicate quantity in $2.00 increments. – Example: put "2" in "QUANTITY" field to donate $4.00, "3" for a $6.00 donation, etc.
Why $2.00? Due to the PayPal fee structure, a $2.00 donation is significantly more beneficial compared to a $1.00 donation.

Thank You!
---
Support Riding in the Zone: Buy a book