Description
Nothing beats a private on-street training day or a one-on-one lesson at a track day where I can coach you in real-time using bike-to-bike communicators. But if that's not feasible, then this is your next best thing.
Now, personal instruction is available anytime and from anywhere. Sign up for Online Coaching and then send me your questions and concerns (and video if you have it) so I can help you increase your confidence, safety and enjoyment!
What you get:
Initial consultation through email telling me about your concerns and

Ken coaches a student in proper body positioning.

questions.

Review video of you riding on the racetrack, street or parking lot (video supplied by you). Videos taken by a friend following you are most useful.
A detailed evaluation with timestamp references to your video.
A comprehensive explanation of what is going on and how to fix the problems.
A list of things you need to do to reach your goals.
Followup emails to see how you've progressed.
Street Riders
Perhaps you've been riding for a while and wonder if you have bad habits you may not aware of (spoiler alert: we all have them) . You may also wonder what you can do to become a safer and more confident rider. I have helped hundreds of experienced riders reach these goals by pinpointing areas where you can improve and suggesting ways to make riding less risky and more fun. Supply me with video of you in traffic or on your favorite set of corners.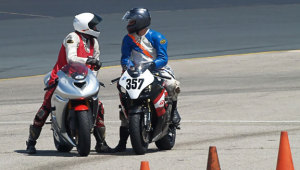 Track Day Riders & Novice Racers
Track riders often ask how they can get faster so they can advance into the next level. Some struggle to drag a knee or have problems dissecting particular tracks. I can help you reach these goals. As lead instructor and director of the one-on-one training program for Tony's Track Days and a former expert-level roadracer, I know a thing or three about helping riders develop their racetrack riding chops. Send me a video of you I can review and I bet I can help you break through a plateau in your track day or roadracing program.
Here's a video of Ken coaching an on-street student using communicators. Send Ken your video so he can give you tips to improve.

Cost
$75.00 for a one-time consultation. Additional consultations are discounted within a 12 month period.