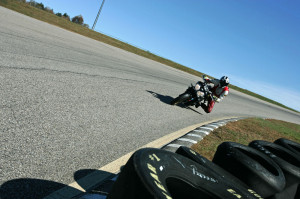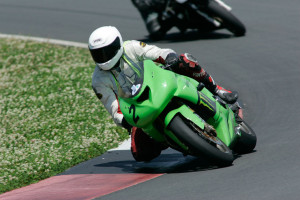 I recently sold my trusty ZX6R for a more upright Triumph Street Triple R as my track day bike. I needed the more upright position as a way to help a chronic neck problem. The Street triple allows me to sit up when I'm working with track day customers at a slower pace. But, the upright and exposed ergonomics means I  have to hunker down to get out of the wind blast when I'm going flat out.
I've ridden all types of bikes on various racetracks  and usually acclimate myself pretty quickly to them. While some adjustment was not entirely unexpected, it did take a couple of sessions for me to start to get along with the ST-R.
The first track session on the Triumph was my first time riding the bike (I picked it up on my way to the track). The track was cold and a bit damp, so I took it easy. I came in at the end of that session not knowing whether or not I made a mistake buying the Triple.
The night before, fellow TTD instructor, Joel Allen helped me adjust the suspension to accommodate the bumpy Loudon circuit and then Peter Kates from Computrack Boston rechecked Joel's work (spot on) the next day. Thankfully, I knew that suspension that is set up for going fast simply does not feel right when you're not going fast. Riding at 60% made the bike seem like it wouldn't hold a line. I kept hope and went out for another session. The track was warmer and so I got up to speed. Ah, that's better. A smile was on my face at the end of that faster session.
The increased pace helped make the handling make sense, I then had to adjust to the upright riding position, which is not nearly as intuitive as a sportbike posture when riding fast. Sitting on top of a bike instead of low behind a fairing makes 120 mph a tiring experience. Transitioning my body from left to right at turn 7 and 8 at Loudon required me to use too much handlebar support while accelerating up the hill.
More rearward footpegs would be needed (I traded the stock rearsets for Daytona rearsets, which should help). Midway into the second track day of the 2-day event, I mounted Pirelli Diablo Supercorsa race tires so I could see what the bike was capable of. I was pleasantly surprised how well I got along with the Striple, with my lap times edging very close to my typical times on the ZX6R. Next stop, Barber Motorsports Park in Alabama in a couple of weeks. I can't wait.

READ PART 2- Adjusting to a New Bike – Unfamiliar Brakes
Read all bout the track day preparation I have done to the Street triple R.
---
Please Donate to Keep the Articles Coming
If you liked this article and the many other articles on this site, please toss a buck or five into the hat. It's greatly appreciated!
Click the PayPal "Pay Now" button.
Then indicate quantity in $2.00 increments. – Example: put "2" in "QUANTITY" field to donate $4.00, "3" for a $6.00 donation, etc.
Why $2.00? Due to the PayPal fee structure, a $2.00 donation is significantly more beneficial compared to a $1.00 donation.

Thank You!
---
Check out these posts:
---
Support Riding in the Zone: Buy a book