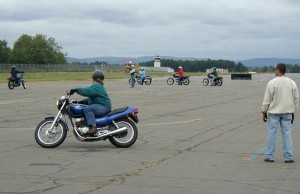 I encourage all would-be and experienced motorcyclists to take a formal rider training course. Training courses conducted by certified instructors are the best way for newbies to learn to ride and for experienced riders to identify and break bad habits and keep skills sharp.
But, a fundamental question needs to be asked: do current methods of basic rider training meet the mission of reducing fatalities and injuries?
Despite more and more people entering motorcycling through rider training courses, a recent report by the Governors Highway Safety Association states that the fatality rates among motorcycle riders increased in 2012 by 9%. "In the 14 years from 1997 to 2011, motorcyclist fatalities more than doubled, from 2,116 to 4,612, while total traffic fatalities dropped by 23%, from 42,013 to 32,367."
Part of the reason for this increase can be explained by more people riding motorcycles and an increase in overall miles traveled. This is due to an improved economy, as well as other factors. Even so, the increased numbers of riders and vehicle miles traveled (VMT) does not explain this significant increase in fatalities.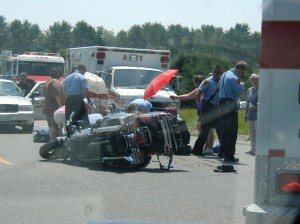 Safety experts agree that current rider training courses are not affecting positive change in fatalities and injuries. This isn't a big secret, representatives from the Motorcycle Safety Foundation (MSF) have said as much at a recent safety conference.
Good for a While
Past studies have shown that formal rider training is effective in reducing crashes for the first several months after a rider gets his or her course completion card. However, the benefits of rider training seem to fade over time so that trained riders are involved in crashes at a similar rate as riders who did not take a safety course.
So, what does that say about the current state of rider training? It says to me that new methods must be imagined and developed to keep riders interested in maintaining and improving their skills. If motorcycle riders could or would continue their skill development past basic skills, then perhaps fatalities would begin to diminish. But, too many riders let their skills get rusty and weak so that they become vulnerable to relatively minor hazards.
Thankfully, a handful of safety experts from around the country are hard at work trying to develop the next generation of approaches to rider training that will hopefully meet the goal of reduced fatalities.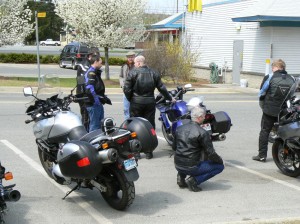 Just "Shut up and Ride"
Unfortunately, a life-long learning model is a tough sell in the United States where motorcycle riders largely want to be left alone to ride the way they wish and not have to be reminded that riding a motorcycle safely requires commitment.
One Possible Answer
So, what's the answer? In the UK and Europe mandatory rider training is a multi-level process that takes many months and a rather high price tag to receive a full license. Some training professionals believe that a customized version of this UK system may be possible in the U.S. through a mentoring program. New Zealand and the UK both have well-established mentor based programs that are well-attended. Can it happen here?
Would it help to make peer mentors available at both formal events and on informal rides to share strategies to become a better and safer rider? Perhaps if respected riders share control skills and survival strategies, (including the importance of refraining from riding impaired) then maybe continuing ed can take hold in the motorcycling culture. Maybe.
What are your thoughts on how to reduce fatalities? Does a mentoring program make sense to you?
---
---
Please Donate to Keep the Articles Coming
If you liked this article and the many other articles on this site, please toss a buck or five into the hat. It's greatly appreciated!
Click the PayPal "Pay Now" button.
Then indicate quantity in $2.00 increments. – Example: put "2" in "QUANTITY" field to donate $4.00, "3" for a $6.00 donation, etc.
Why $2.00? Due to the PayPal fee structure, a $2.00 donation is significantly more beneficial compared to a $1.00 donation.

Thank You!
---
Support Riding in the Zone: Buy a book