Customized to Your Event's Needs
Optional components can be arranged to bring your event to the highest level of excitement and participation.
Experience Motorcycling First Hand
An interactive "Experience Motorcycling" program provides willing participants to put on riding gear, be introduced to motorcycle controls, and learn to ride an actual motorcycle! Event participants sign up for a two hour lesson in a nearby parking lot where Ken and one or two other trained instructors will conduct a basic Introduction to Motorcycling class. Helmets, jackets, gloves, and small, low power motorcycles will be provided. Cost can be part of Ken's fee,or participants can be asked to chip in if this option stresses your event budget.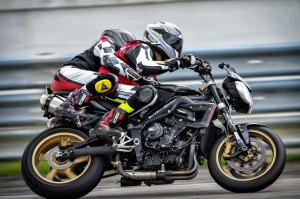 Ride With Ken
Another option available is the opportunity to ride as a passenger on a half-hour road trip with Ken. This option is suitable for those intimidated by the "Motorcycling Experience" program, but are eager to feel what it's like to ride on a motorcycle. Two-way helmet-to-helmet communicators enhance the experience as Ken narrates the ride. Riding gear will be provided.