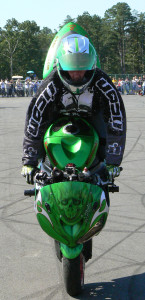 In Part 1 of the "Adjusting to a New Bike" series, I told about the challenges I faced transitioning from my trusty 2005 Kawasaki ZX6R track bike that I had for 5 years to my new-to-me 2012 Triumph Street Triple R.
You may wonder why I think "Adjusting to a New Bike" is a topic worth spending time on. The fact is that I've seen and heard too many stories of people getting into trouble while trying a friend's bike or when riding a new bike.
In this post I will talk about an issue that can lead to a crash if you're not careful – Unfamiliar brakes.
One story I want to share involves a well-known safety journalist who took a well know safety instructor's sportbike out and promptly totaled it. By all accounts, the reason for the crash was not a lack of skill, per say, rather it was a lack of familiarity with the power of sportbike brakes.
All photos © Ken Condon
Yikes! These aren't my Brakes!
The journalist's brake hand (and mind) were calibrated to a large adventure bike, not the top-spec, radial mount, four piston anchors that the sportbike was styling. All it took was a driver pulling out in front of the journalist to cause the over-braking to happen. A skid ensued, followed immediately by the sound of plastic and aluminum grinding itself mercifully into the pavement. Luckily, the rider came out of it in better shape than the bike.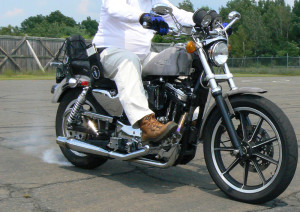 I ride a lot of different motorcycles on the street and the racetrack, one of the first things I do is test the power and sensitivity of the brakes. I squeeze the front brake a few times with varying intensity.
I don't ignore the rear brake as I press the pedal to see if it bites too abruptly and is prone to locking (many are), or is very weak, requiring significant pressure to get any useful brake force at all.
The Street Triple is a hybrid in that the rear brake seems to be weak initially, but then grabs. This is something I discovered the first time I descended my gravel and dirt driveway. Oh, and yes, I do use the rear brake. That's a topic for another post.
Better Braking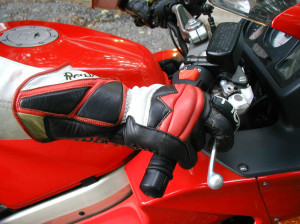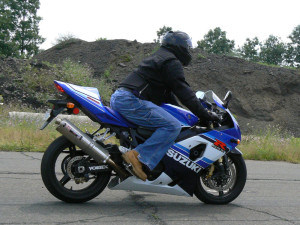 Besides familiarizing yourself with the brake's feel, you should also use good brake technique (always). Determine whether you should use four fingers on the front brake or if two fingers might give you better control.
No matter how many fingers you use, be sure to always SQUEEZE the front brake lever progressively. Grabbing a handful of brake lever will lead to nothing good. It will likely skid the front tire and you will be pile-driven into an unforgiving bit of very hard tarmac or dirt.
In most cases, this happens because you didn't give enough time for the load to transfer onto the front tire contact patch. With little load on the front tire, the powerful front brakes can easily overwhelm the available traction.
Instead of a skidding front tire, it is possible to find yourself staring at your front wheel as you get flung forward. Or you may end up doing a stoppie. However, more times than not, the front tire skids before either of these occurrences happen. To prevent a skid, always squeeze and then squeeze harder if necessary.
Part 1 – New Bike
Part 3 – Power Delivery

---
Please Donate to Keep the Articles Coming
If you liked this article and the many other articles on this site, please toss a buck or five into the hat. It's greatly appreciated!
Click the PayPal "Pay Now" button.
Then indicate quantity in $2.00 increments. – Example: put "2" in "QUANTITY" field to donate $4.00, "3" for a $6.00 donation, etc.
Why $2.00? Due to the PayPal fee structure, a $2.00 donation is significantly more beneficial compared to a $1.00 donation.

Thank You!
---
Check out these posts:
---
Support Riding in the Zone: Buy a book