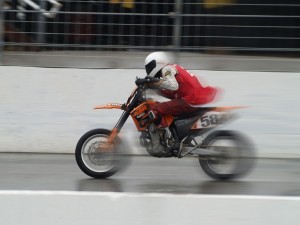 Whenever I tell people I ride a motorcycle on a racetrack, the first question they usually ask is "How fast do you go?"
I invariably begin my answer with "Depends". No, not the product found in your grocer's personal hygiene aisle (although there have been times when I coulda used one under my leathers). I tell people that it depends on which racetrack I am riding and how long the straightaways are.
Since my partners in conversation are looking for a wildly high number that satiates their need for sensationalism, I tell them the highest speed I have ridden on a racetrack…155 mph. That was the indicated speed on my 05 ZX6R with stock gearing while going FLAT OUT on a very long straight at the Monticello, NY racetrack.
"You ride at 155 mph?!" Their judgement of my lack of sanity is usually pretty transparent. But, not all people judge me negatively. Many seem to revel in the fact that they can now tell their friends that they met someone who defies all reason by going really, really fast on a motorcycle. I ego-maniacally imagine myself being the topic at many a dinner conversation.
Fast is Cake
The fact is that reaching top speed in a straight line is a piece of cake. The way a motorcycle works, the faster you go the more stable it becomes. You've probably seen video of racers who get ejected from their bikes, but the motorcycle stays upright even without the rider in the saddle. The reason the bike stays upright on its own is because of the many factors associated with motorcycle dynamics…gyroscopic precession, inertia, trail, etc.
This is why riding a bike fast in a straight line is easy.
Going Fast and Surviving
Going really, really fast is not as simple as twisting the throttle all the way (actually, it is, but you just might not get the chance to do it a second time if you don't know what you're doing).
Even bone-headed people with no business riding a motorcycle can do it. Unfortunately, many end up on the next morning's obituary page.
The first thing to do to avoid calamity is to choose where you ride fast. Smart people figure out that the street is NOT that place. Those riders know that the place to ride fast is on the racetrack. No, you don't have to race to ride on a racetrack. Yes, it costs money to do a track day or to race. Riding on the street is mostly free, but fast riding on the street is a false economy. Just one wrong move and you could find yourself wrapped around a sign post or wedged underneath a guardrail. And the future of your bank account and license are in grave jeopardy if you get caught going really, really fast on the street.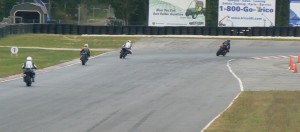 It's not the speed that kills you, it's the sudden stop.
No matter where you ride fast, you need to know how to do it without scaring the pee or poo out of yourself (see comment on the personal hygiene in the earlier paragraph). This requires you to be confident that you can control all that speed before you careen off the track (or road) in a flaming ball of glory. Braking skill is deliberately developed over time. Brake control, visual acuity, speed perception and timing all need to be at their best to manage really, really fast speeds.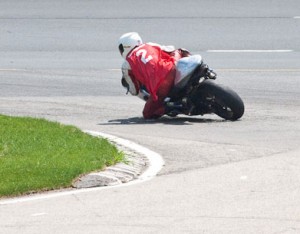 Cornering is Funner
Going fast is indeed easy, but I'll tell you what is hard…cornering. What interested people should be asking is, "How fast are you going in the corners?" Cornering at 45 degrees of lean angle with your knee skimming along the pavement at anywhere from 40 mph up to 100 mph (or more, depending on the corner) is something to be impressed about.
Fast is fun, but cornering fast is funner.
Until next time…Go FLAT OUT.

---
Please Donate to Keep the Articles Coming
If you liked this article and the many other articles on this site, please toss a buck or five into the hat. It's greatly appreciated!
Click the PayPal "Pay Now" button.
Then indicate quantity in $2.00 increments. – Example: put "2" in "QUANTITY" field to donate $4.00, "3" for a $6.00 donation, etc.
Why $2.00? Due to the PayPal fee structure, a $2.00 donation is significantly more beneficial compared to a $1.00 donation.

Thank You!
---
Support Riding in the Zone: Buy a book