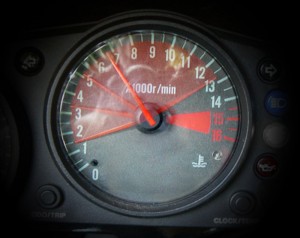 Little attention is paid to shifting. I suppose it's understandable, since shifting quickly becomes an unconscious, mechanical procedure.
Skillful shifting increases the likelihood of tapping into the illusive Zone. Think about how satisfying it is to smoothly click through the gears with a barely detectable interruption in forward drive. Your hands and foot perform flawlessly with perfect timing and minimal effort. Nirvana!
It's not only motorcycle riders who experience the joys of manual shifting. People who drive cars with manual transmissions know how shifting gears "involves" the driver.
Shifting Impairment
However, with only a small percentage of autos in the US available  with a stick shift, manual shifting has become a lost art. This means that some younger people thinking about becoming motorcyclists can be anxious about learning manual shifting. Manufacturers need to provide machines with automatic transmissions because manual transmissions intimidate potential new riders who see the clutch and shifter as a barrier to learning to ride.
And with shockingly few new riders entering motorcycling, it is important to entice them any way possible. Which is why it makes sense to offer full-sized automatic models (not a scooter, thank you very much) to a potential new rider who is inexperienced in manual shifting. It just might encourage them to make the decision to enter the world of motorcycling.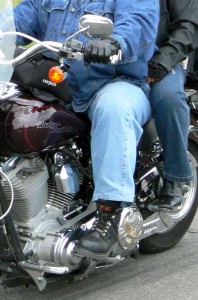 Auto-shifters
Motorcyclists have not needed to choose whether to purchase a manual or automatic transmission, because all motorcycles came with a clutch and gearshift lever. However, manufacturers are now offering models with automatic transmissions, such as the Honda VFR 1200.
Past examples of automatic motorcycles never sold well, but that was a long time ago, so why would manufacturers do this?  To help motorcycling grow (or even maintain) its numbers, but also because the technology has improved enough to make DCT auto transmissions viable for not both experienced and new riders alike.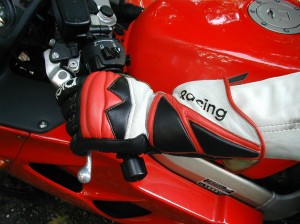 Learning to Shift is not Hard
The fact is that of all the skills a new rider must learn, learning to shift gears is one of the least problematic. The newbie student in a MSF Basic RiderCourse learns to shift during the first couple of hours of their introductory day of riding. Sure, some people struggle with the coordination of clutching and shifting, but most get past the difficulties and go on to pass the course. The reasons students fail the course is because of more critical issues, such as braking or cornering problems, but not shifting.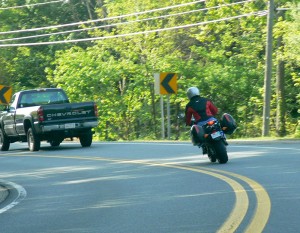 Shifting is Your Least Worry
There are a ton more important aspects of riding that should deter borderline new riders from riding, such as surviving riding in traffic, being able to make a corner at speed, stopping before colliding with a Buick, or losing traction on a sandy road. But, shifting really shouldn't be one of them.
Long live the Clutch
However, the fact that shifting can be a barrier that stops potential new riders from taking the plunge means that manual transmissions could become more and more rare. On one hand, the sport desperately needs a new generation of riders to replenish the ranks. On the other hand, I would be very sad to see the manual transmission go the way of the kick-starter. Do you think this is possible?

---
Please Donate to Keep the Articles Coming
If you liked this article and the many other articles on this site, please toss a buck or five into the hat. It's greatly appreciated!
Click the PayPal "Pay Now" button.
Then indicate quantity in $2.00 increments. – Example: put "2" in "QUANTITY" field to donate $4.00, "3" for a $6.00 donation, etc.
Why $2.00? Due to the PayPal fee structure, a $2.00 donation is significantly more beneficial compared to a $1.00 donation.

Thank You!
---
Check out these posts:
---
Support Riding in the Zone: Buy a book