It's hard enough to get accustomed to a new-to-you bike, but throw in a new-to-you racetrack, and things can get interesting. It's kinda like patting your head while rubbing your tummy in a circular manner (I'm pretty good at that, BTW). Normally, I get up to speed fairly quickly when I ride a new track, evaluating each corner for its character: radius, camber, and whether it is an "entry" turn or an "exit" turn. But, it took me longer than normal to sort out the Barber track, mostly because the track consists of blind corners and a layout that is somewhat complex.
This means that it took a few sessions to not feel lost. I would be asking myself, "Wait, is this that tight turn or is it that turn that opens up?".
Add to that the need to acclimate to a new-to-me motorcycle and the first day at Barber had me not exactly feeling Stig-like. The second day was much better.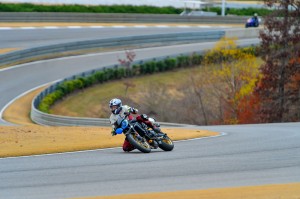 Learning the Barber Motorsports Rollercoaster
I could tell you all the super-secrets I use to learn new tricks, but I would be repeating myself, because I already wrote a lengthy article on tips for learning new tracks on the Tony's Track Days website. Read it HERE. Share any other tips you have in the comments below.
Even with my book of tricks in mind, I had a harder than normal time figuring out Barber. Now, to be fair to myself and to put things into perspective (lest you thought for one minute that I wasn't awesome from the start), I was going respectably fast in the Advanced group after the first session. However, my standards for pacing with the fast guys made me rather discouraged. I know many of you slowpokes are used to being passed by half of whatever group you ride in, but I am not (just kidding). But, even after the third session, I was feeling a bit too much like I should be in the Intermediate group.
This would not do, so I consulted with Tony and my faster peers from New England and discovered that I was slowing too much for a few corners and not getting on the gas nearly early or hard enough. The last two sessions were better, as I started identifying the problem corners and applying some of the reference points Tony and the others were using.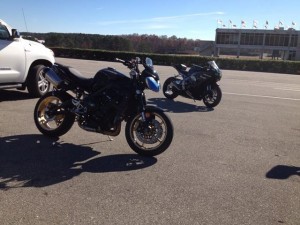 Sunday morning was 25 degrees F, so we substituted the frozen on-track festivities for a walk around and some bench racing around the tire warmers. Tony and I didn't bring tire warmers, so we opted for Mother Nature's warmers, which worked surprisingly well (at least on one side of the tires). After lunch, the temps got up to a whopping 35 degrees, so we pulled on our leathers and hit the track.
Nippy fingers and a fogging face shield told me to take it slow, but after a few laps, it became apparent that the track itself had some grip. Since it was 70 degrees only a few days before we arrived, the ground wasn't nearly as cold as the air and the asphalt was well over 50 degrees…not great but acceptable.
Let the fun begin. The rest of Sunday was a blast. I started getting up to speed hooking up with Keith, Woody, and Rich. Tony, Adam and Aaron were too fast for me.  See the videos HERE.
But, wait! There is more to this story, so read on.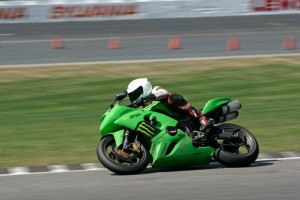 A New Bike
If you've been reading the RITZ blog at all you probably know that I sold my most-awesome ZX6R for a Triumph Street Triple R. I really didn't want to sell the ZX, but a medical issue required me to make the switch from a crouched racer posture to an upright naked posture (oh, grow up).
The differences between the ZX6 and the Street Triple's spanned only a few areas: handling, gearing, power characteristics, body position, throttle response, drive timing, front tire grip, footpeg feel, shifting ease, wind noise, and color (I wonder how the Striple would look painted Kawi Green).
With all these things to adjust to, it took me most of the first day to get a good session in.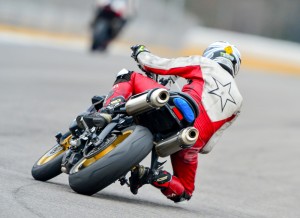 Where's the Power?
In a nutshell, I wished the 675 had more power. I know, I know power just masks poor riding. But, it also is very useful when trying to pace with the big boys.
The Triple doesn't drive nearly as hard as the ZX636, so I needed to learn to ride the bike more like a small displacement bike, like a SV. To get the bike out of corners and reach acceptable speed on the straights, I needed to go from cracking the throttle to Wide Open Throttle (WOT) immediately to get the drive I wanted. I found myself using full throttle a lot. The 1050 throttle tube helped make full throttle a bit quicker compared to the stock tube, but a MotinPro unit may find its way onto the Triple's handlebar end fairly soon.
Why is my Bike Twerking?
OK, so power was down, but that is something I found to be rather fun to manage. Full throttle is never boring. I even think I could have kept with Tony if the bike had better manners in the handling department. Don't get me wrong, for most riders, the Street Triple R's fully adjustable fork and shock would be awesome, especially for street duty. The bike never scared me, but I was pushing the bike fairly hard and found the bike wanting to wiggle like Miley Cyrus when cresting the turn 3 hill at full honk. I never felt as if I could drag a knee over that hill with the way the Striple was Twerking beneath me.
Perhaps there was some more adjustments that could have tamed the beast, but the temperatures were so low and the oil so thick that any adjustments would probably not net any real benefit, so I left the adjusters at the Loudon settings and dealt with it. Peter at Computrack Boston will be receiving my forks and order for a new shock by the end of the year so I can have more range of adjustment to suit my style.

---
In a future post, I will talk about my experience as a track day customer, as opposed to an administrator/instructor. I made note of several areas that helped me better relate to track day customers I work with. Stay Tuned.
---
Please Donate to Keep the Articles Coming
If you liked this article and the many other articles on this site, please toss a buck or five into the hat. It's greatly appreciated!
Click the PayPal "Pay Now" button.
Then indicate quantity in $2.00 increments. – Example: put "2" in "QUANTITY" field to donate $4.00, "3" for a $6.00 donation, etc.
Why $2.00? Due to the PayPal fee structure, a $2.00 donation is significantly more beneficial compared to a $1.00 donation.

Thank You!
---
Check out these posts:
---
Support Riding in the Zone: Buy a book