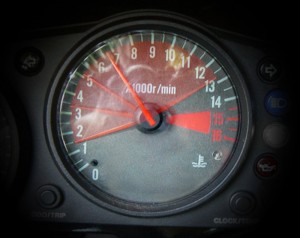 What is Throttle Blipping?
To execute smooth downshifts it is important to match the engine speed with the road speed. You can do this by slowly easing out the clutch (after you apply the brakes, please). But sometimes a rapid downshift is necessary or desirable. Unfortunately, releasing the clutch quickly can lead to abrupt re-engagement. This is where throttle blipping comes in.
Throttle Blipping is the term used to describe the rev-matching technique where the rider momentarily "blips" the throttle to increase engine rpm to better match the revs to the road speed when downshifting. You've probably heard riders blip their throttle, but may have thought they were just being obnoxious and annoying as they roll to a stoplight.
The best example of throttle blipping can be heard when a sport bike is decelerating and downshifting (and usually braking) from high speed. Listen to my friend Aaron as he demonstrates some of the quickest and smoothest throttle blipping I've heard (or is it the magic of modern sport bike electronics?). Listen at the end of the straight starting at 0:15:

Here's another video showing my throttle hand as I blip the throttle. See 2:20. For comparison, I enter the same corner, but without blipping at 4:08.

Here's another video showing me smoothly execute three non-blipping downshifts at around 4:15:

---
How to Blip a Throttle
The throttle blipping technique is done by quickly cracking the throttle open then closed (blip) while you simultaneously squeeze the clutch and click the gearshift lever. The point is to get engine RPM matched to the lower gear ratio before you release the clutch. The rapid blipping technique occurs within the span of less than one second. The clutch is quickly squeezed and released as the transmission is shifted down and the right hand blips the throttle. This is repeated with every downshift, one gear at a time.
You can blip the throttle rapidly to reduce the time between gears, or you can be leisurely. High-performance riders blip the throttle very quickly when downshifting between gears as they set up for a corner. Street riders may choose to blip the throttle when downshifting. This is done more slowly when coming to a stop.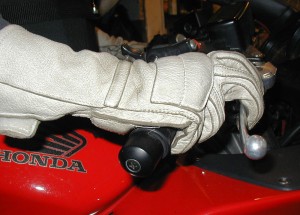 Brake and Blip
Oftentimes, you need to brake while downshifting, but trying to simultaneously brake and blip is a difficult skill to master. The problem is that moving the right hand to blip also causes the fingers to move, which invariably changes brake pressure. Combining braking and throttle blipping can be done with less difficulty if you apply the front brake with your index and middle fingers while you close and open the throttle with your thumb and two outside fingers. Arching your brake fingers is also helpful in isolating throttle movements.
The point is to blip the throttle while keeping consistent brake lever pressure. This is most easily done when using very firm braking pressure , like when braking hard from high speeds  where brake lever movements translate into relatively minor brake force changes.
Is Blipping Necessary?
Some motorcycles benefit from throttle blipping more than others. A big V-twin or single cylinder engine with a lot of engine braking can more easily lock the rear tire if the clutch isn't released carefully, so blipping makes sense. But, for many bikes, especially ones with in-line 4 cylinder engines, it's easy enough to quickly but gradually release the clutch  between downshifts. It's what I do when I ride my Triumph Street Triple on the street or track (see video below). With the introduction of slipper clutches on many sportbikes these days, it's even less necessary to blip the throttle.
Still, a lot of riders swear by throttle blipping. That's fine, if you do it skillfully. I find that it just adds another thing to do while I'm screaming into turn 1 at over 100mph. Listen to my downshifts at the end of the long straightaway in this video from a recent track day, starting at 2:06 and then throughout the video. You can hear how I simply downshift and then ease out the clutch. It's done quickly, but smoothly:

Engine Braking
Not blipping the throttle means I don't have the problem of coordinating throttle blipping while modulating the front brake, but there is an added benefit that comes from the stabilizing effect that engine braking offers. Let me explain.
Rear brake force, either in the form of rear brake application (which I do not use on the track) or from engine braking, "pulls" the rear of the motorcycle in line with the front wheel. Blipping the throttle during downshifts minimizes engine braking compared to simply easing out the clutch. Engine braking still happens, it just occurs in a shorter duration of time and can be abrupt if not done well.
Do you blip your throttle? If so, or if not, tell us why?
---
If you liked this article and the many other articles on this site, please toss a buck or five into the hat. Select an amount and then click the PayPal Pay Now button. It's greatly appreciated!
Please Donate to Keep the Articles Coming
If you liked this article and the many other articles on this site, please toss a buck or five into the hat. It's greatly appreciated!
Click the PayPal "Pay Now" button.
Then indicate quantity in $2.00 increments. – Example: put "2" in "QUANTITY" field to donate $4.00, "3" for a $6.00 donation, etc.
Why $2.00? Due to the PayPal fee structure, a $2.00 donation is significantly more beneficial compared to a $1.00 donation.

Thank You!
---
Some related posts:
---
Support Riding in the Zone: Buy a book