The Patient:
I recently sold my trusty track-only 2005 Kawasaki ZX6R for a more upright track /street bike. I thought I would buy a new Yamaha FZ-09, but I talked with Dave Searle from Motorcycle Consumer News who told me that the FZ needed a lot of work to make it track worthy, so I opted for a slightly used 2012 Triumph Street Triple R. I rode it at a track day the day I picked it up and it performed very well in stock form. But, as a track day junkie and instructor, I needed more precise handling and I need to make sure a tipover will not keep me from continuing with my day.
Besides doing the track day stuff, I also Accessorized the Street Triple with some street-oriented stuff. You might want to check that out later.
---
 First, Some Video
Below is a video showing a couple of laps of me and the Striple at Loudon. I'm in the red vest. The Street Triple fun starts at 7:10.

At Barber

At Thompson, CT

---
Bolt on Bike Protection
You are not required to have frame sliders or any other type of bike protection at most track day events. But, it is smart to protect your motorcycle in the event that you go down. I ride on the racetrack as one of my jobs, so I do over 2,000 track miles per season. Even though My crash rate is very low, I have been known to make a mistake or two. An investment in bike protection (as well as rider protection) can mean the difference between ending your day early or getting back out on the track to finish your day on two wheels. I also carry some spare levers and foot pegs, just in case.
Here are some images of the work I've been doing to my 2012 Triumph Street Triple R. It is serving as my track bike and as an occasional street bike. I focused first on bolting on some engine, frame and exhaust protection. I work for Twisted Throttle, so it made the most sense that I use products that they import and sell. The stuff from R&G Racing and SW-MOTECH are top shelf, IMO and I would consider using their products even if I didn't get the employee discount. Click the links to see all of the Twisted Throttle products for the 2012 Street Triple  and 2008-2011 Street Triple.
A few notes (see photos below):
Wired oil filler and dipstick caps: I leave more wire at the ends so I can simply unwind the tail end, pull it through the hole and then reuse the wire after an oil change.
R&G Racing swingarm spool and protector, in combination with the Woodcraft spool and protector: I have both of these swingarm protectors because I have seen too many swingarms get damaged when the threaded swingarm spools break off in a crash. I decided to add the axle spools/protectors to try and give a second point of contact to hopefully prevent the threaded boss in the swingarm from getting damaged. Another reason to have both spools s because you can't use the rearward R&G spools to support your bike with a race stand for removing the wheel, because they must be removed to take out the axle. So you need the other spools as well.
---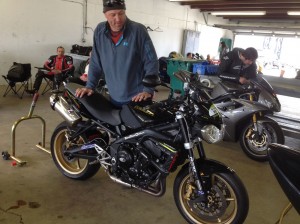 Suspension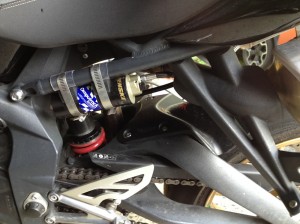 The suspension was upgraded over the winter to include Penske fork valving, a .95 fork spring swap and a Penske 8983 with a remote reservoir. The stock suspension is very good, but at the level I need to ride when instructing for Tony's Track Days, I need a bit more adjustability than the stockers can provide. The remote reservoir was a bit difficult to locate, making the extra cost of a piggyback worth considering. But, it works great.
The highly regarded skills of Peter Kates from Computrack Boston were employed. PK has been around the Loudon paddock for years and is the go-to guy for suspension and chassis tweaks.After some compression and rebound damping tweaks and a change to a 750 pound spring, the shock is now setup for serious lap times. What is interesting is that the suspension now doesn't work as well at slower speeds. It's a bit busy UNTIL you turn up the speed and then it all makes sense (like most race setup suspension).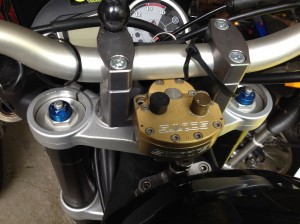 One other thing I had Peter do was measure the chassis to get the rake and trail to be set at the optimum numbers for fast riding. This means increasing trail on the Triumph 675s. Many Daytona riders opt to replace their triple trees with one with less offset. this gives them the trail needed for mid-corner stability and cornering feedback. The Street Triple is closer than the Daytona in regards to trail, so instead of springing for the $800.00 triples, Peter slid the fork tubes down inside the top clams as far as possible. It looks weird, but it did increase mid-corner feel at speed without slowing turn-in.
---
Tires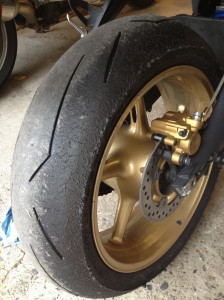 People have a lot of questions about tires. I have done track day laps on all kinds of tires, including basic OEM rubber, Sport touring tires, sporty street tires, and DOT race tires. Believe it or not, most all are capable of keeping you on two wheels when ridden at a novice, intermediate, or a slower advanced group pace. I have used Michelin Power One race tires for the last few track day seasons and loved them, but this year I am switching to Pirellis. The reason is that I always liked the feel of Pirelli tires and it doesn't hurt that TTD is supported by Motorcycle Tires and Gear (MTAG), who also supplies Pirelli tires to the Loudon Roadracing Series.
My Street Triple comes stock with Pirelli Rosso Corsa, which is a proven track day favorite with many of the TTD staff, including my daughter, Jeannine. I rode the first 3 session at Loudon on the Rossos and had no sense that the tires were limiting me in any way. I changed over to Pirelli Supercorsa race tires after lunch so I could compare the differences and so would have fresh rubber for the track day that Tony and I will be attending at Barber Motorsports Park in November.  I got along with the Supercorsas just fine, thank you. I immediately braked deeper, accelerated stronger and cornered harder to a point where I approached my best times I typically do on my ZX6R. I was impressed.
Does the average track day rider need race tires? No. Most modern sport-oriented tires that are relatively new will do just fine. It comes down to whether your level of riding is good enough for you to actually use race ribber. Most people have a long way to go before the answer to this question is yes. Run what ya brung, mister.
---
Daytona Rearsets

The stock Street Triple rearsets are very comfortable for street riding, but are too far forward and are a little too low for aggressive track riding. I dragged my toe slider before I was dragging my knee, which is no good, as I use my knee dragging to measure my lean angle. And without that tool, I am not able to monitor lean angle with the same level of confidence I like. The stock footpegs are also too far forward for moving from side to side without pulling on the handlebars. Footpegs that are further rearward allows me to use my legs to support my torso when flopping from left to right, especially when doing so uphill, like what happens at turn 7 and turn 8 at NHMS.
The 2007 Daytona rearsets bolt on easily with no issues whatsoever. I could even use the stock shift rod. The rear brake light switch needs a bit of adjustment, but that's really easy to do.The Daytona pegs could be even further back for my taste, but it's a big improvement at 1″ further back and 1/2″ higher compared to the stocker STR rearsets. I also think the Daytona rearsets look great.
---
Levers
I installed some shorty levers, which are more adjustable than the stock ones and are less likely to break in a crash. The short levers also accommodate two finger use and they look cool. I've used ASV levers before and really like them, but a lot of racers use the cheap knock-offs from China, so I'm giving them a try. I installed the levers and they seem fine. Perhaps they aren't as nice as the expensive ones. but they are good looking and work great. I have to get used to the shorties after always having standard long versions.

---
Tank Protectors
Like a lot of sport bikes these days, the tank on the Street Triple sticks out on either side, enough to cause serious damage in a crash. The latest R6 tanks are known to puncture where the tank sticks out. I opted to mount the R&G Racing tank sliders on the Triple. They are glued on using Aquarium sealant. I asked R&G whether this sealant will harm paint and they say that it will not. They look a little to Squidly for my tastes, but they will do the job if I were to crash.

---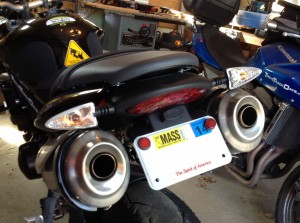 R&G Tail Tidy Fender Eliminator
The R&G Tail Tidy allows my bike to be ready for both track or street. The fender eliminator save a lot of weight and keeps the turn signals tucked in in case of a fall.
Click the link below to view the Twisted Throttle product page for the Tail Tidy.
---
Tiger 1050 Throttle tube and grip
I just installed a Tiger 1050 throttle tube, which has a larger diameter cylinder that the cables run on. This means that the distance (and time) it takes to reach full throttle is reduced.  Racers install quick throttle tubes as a matter of course so they can get to full throttle in an instant. Motion Pro makes a throttle kit that includes several cams to suit the rider's preference. The 1050 tube is cheap and is a stock item that is an intermediate upgrade without going the full race route.
The installation of the throttle tube was easy. However, I read about the throttle housing c=screws being easy to strip, so I grabbed my impact driver and with a few whacks, loosened the screws. Another slight complication was that the throttle wouldn't snap back with the larger diameter throttle tube. After some investigation, I discovered that the throttle cables needed more slack… piece of cake, since the "pull" adjuster was about 6 inches down the cable from the throttle grip. Now it's perfect.
I took it for a short ride and I love the feel of the throttle. It seems more responsive and shifting is even smoother. Two thumbs up on this cheap modification. ($17.00 shipped from Bike Bandit)

---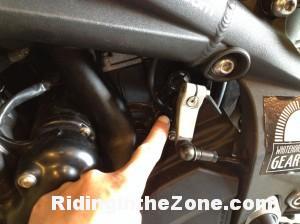 Gear Position Sensor Failure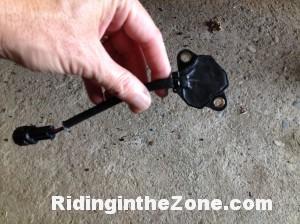 It seems that the Triumph 675s are notorious for having bad gear position sensors. The symptoms are a Check Engine Light (CEL) and any manner of numbers appearing in the gear indicator area of the speedo/tach instrument cluster. I bought the Tuneboy ECU reader and after many attempts to get the software to work (thanks Paul) I managed to confirm that the CEL was the result of the gear shift sensor going bad.
Some people have had good luck cleaning the old one, which worked for a while on my bike. But, in the end, the CEL kept coming on. What's the big deal? you ask. Well, the bike ran fine, but the Tuneboy data shows that different fuel mapping occurs with the different gears. That means without an accurate indication of which gear you are in, the ECU can't trigger the correct map.
The sensor is located behind the plastic countershaft sprocket cover with the connecting wire underneath the tank. You have to remove the gear shift rod. Hint: The small c-clips that hold the shaft onto the pivot balls poke into a small hole on the side of the shaft's ball ends. Prop up the tank using the rod that is stored under the seat to get to the wires.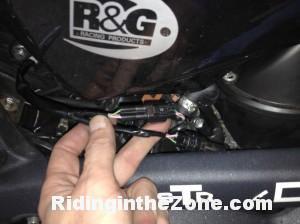 The new "kit" that was indicated for my bike included the sensor with a wire plug that does not fit the old plug from the bike's harness. The kit includes a 8 inch jumper harness that plugs into the old harness, the new sensor at one end and the other ends plug into the Throttle Position Sensor located on the right side of the throttle bodies. The wire is long enough to cross underneath the fuel tank. Some say it may provide a power boost. We'll see. At least the ECU will know what gear the bike is in.
After changing the sensor, the CEL went out after three startups. I am taking the bike to the track again in a week and I'll see if any power advantages occur because of the new harness and sensor. Stay tuned.
---
General Track Day Bike Preparation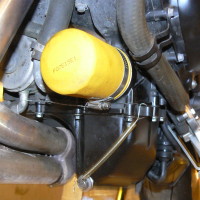 Preparing a motorcycle for a track day doesn't have to be a big deal. Some people are under the impression that they have to drain fluids, wire bolts and tape every light in sight. While some track day organizations do require race-level preparation, many do not. Tony's Track Days (TTD) requires very little prep. (See the video
below for requirements). Many people don't have access to a truck or trailer and ride to the track on their street bikes. They remove their mirrors and licnse plate (if necessary), disconnect or cover the brake lights, lower their tire pressures (30,f, 30 r is a good starting place) and they are ready to go through tech inspection. Staffers are there to help with any issues. Motorcycle prep should not be a reason for not attending a track day!
One thing that seems to stump a lot of riders is how to secure a spin on oil filter. It's as simple as getting a 4″ hose clamp from your auto parts or hardware store, slip it around the filter and rotate it so it hits a solid part of the engine or frame to prevent the filter from spinning off. If necessary, wire the clamp to a solid object (see photo).
---
Please Donate to Keep the Articles Coming
If you liked this article and the many other articles on this site, please toss a buck or five into the hat. It's greatly appreciated!
Click the PayPal "Pay Now" button.
Then indicate quantity in $2.00 increments. – Example: put "2" in "QUANTITY" field to donate $4.00, "3" for a $6.00 donation, etc.
Why $2.00? Due to the PayPal fee structure, a $2.00 donation is significantly more beneficial compared to a $1.00 donation.

Thank You!
---
Product Gallery. Buy from here and support RITZ
---
Support Riding in the Zone: Buy a book