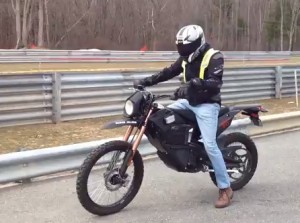 I've ridden all sorts of motorcycles, from Harleys to sidecar rigs, to all manner of sport and touring machines. But up until a couple of weeks ago, I had never had the chance to ride an electric motorcycle.
Thanks to Eugene Morin of Seems Electric Vehicles, I was able to cross that off my bucket list. The bike Tony (Tony's Track Days) and I rode was the Zero "FX" , which is the dual-sport model. This particular motorcycle is outfitted with police lights and siren for the Block Island, Rhode Island Police Department. Eugene has outfitted machines for the Newport, RI men and women in blue, as well.
How Long Will it Go?
The number one question I get when I tell people that I rode an electric bike is how long will it run on a charge? According to Zero's specifications for the FX, it can go for up to 35 miles with a single battery configuration, or 70 miles on a dual-battery setup. This is for what they call "city" riding. 70 mph highway riding causes the battery life to plummet to only 15 miles with the single battery and 30 miles with the dual battery.
But, this dual-sport model is perfectly suited for the job it is intended for: curb jumping, rock hopping and general shenanigans, and not for droning on a highway.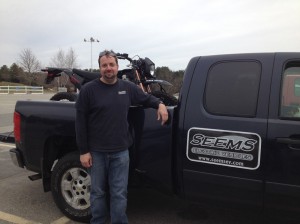 What About the Power?
The Zero FX puts out 70 foot-pounds of torque from the moment you twist the throttle. The unit we rode had just a single battery, but a second battery is available that provides more horsepower (but the same torque). With 70 foot pounds of torque from the bottom, the bike jumps to life, reaching 60 mph in 4 seconds! Yahoo!
However, once underway you quickly find the top end of its 27hp (44hp with two batteries). Max hp is reached at just 3,750 rpm. Flat out, baby.
Tony and I took the little FX in some dirty parts of Thompson Speedway's infield, dodging construction equipment and roosting the rear tire to see what the potential is for trail riding. In four words, "it is a blast". This is more of what the FX is made for.
There is no gearshift lever or clutch to modulate, just twist the throttle on and off to regulate speed and power. With fully- adjustable suspension, the bike will handle most anything you toss in front of it.
On the racetrack, it was lively, but ultimately, it fell flat once you got the motor wound up. Max speed is 80 mph, but I wasn't comfortable going much over 60 on the dual-sport tires. The bike only weights 240 pounds, so it was light and flickable. Perfect for off-road or city riding, but out of its element on a pavement racetrack (or extended highway riding).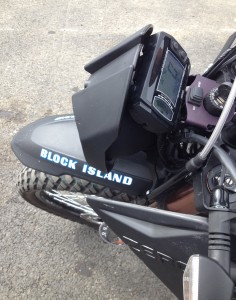 We didn't mess too much with the power modes, but there are some. One mode delivers a mellow power delivery, while the other snaps to attention with a bit more authority. There is much more to learn about all the settings. I can see the potential for some riders to just hit the "easy" button and ride happily for weeks.
What's It Like To Ride?
Riding the Zero FX was a pleasant surprise. I expected scooter-like sensations. What I got was the power and responsiveness of a real motorcycle. It's combination of liter-bike torque with 250 Ninja horsepower is something I'd have to get used to. But, that torque is enough to satisfy me and make me want to ride the Zero more and more.
The other observation that stands out when riding the Zero is that something visceral is missing…sound. What you hear when the bike is stationary is complete silence. Tony had to ask whether the bike was "running" or not. It was. There is an ignition key and some safety switches to prevent accidental launching, which is a good thing, because it is impossible at a quick glance to know whether the thing is loaded or not. Until you get used to the immediate torque and the safety systems, it's probably best not to point it at any solid objects before you're ready to roll.
Can I Live With One?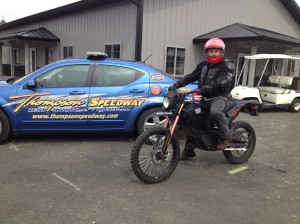 Electric bikes are definitely something I am interested in. I can imagine stealthily working my way through the woods or traffic with just the whistle of the wind, the whine of the tires and the whirring of the Z-Force® 75-5 passively air-cooled, high efficiency, radial flux permanent magnet, brushless motor to remind me that I'm on a motorcycle.
The range may be a problem, but not if you use it for what it's designed for. A bike like this would be a great trail bike and commuter. I would keep my Triumph Sprint for long-haul duty and my Street Triple for the track.
The street versions offer more power and range and a more streetbike-like experience, or so I'm told. (Try 106 foot pounds of torque for the Zero SR!) Thankfully, Eugene promises to bring a handful of Zero Electric Motorcycles to a few Tony's Track Days events for us to try (yes, customers can ride them, too). Join the TTD mailing list to stay informed.
For you loud pipes folks, I never believed that loud pipes save lives, so I am not concerned about any safety deficit. And even though I love the sufficiently muffled, but booming sound of a V-Twin, or the music of a spinning triple or in-line four in my ears, I can equally appreciate the silence of an electric motor. My neighbors will, too.
Imagine eliminating all the problems off-road and paved racetrack owners have now with neighbors who complain about loud motorcycles. Silence is golden, people.
Cost
Unfortunately, prices are still a bit high for my personal bank account to endure.  The FX retails for $9,500.00 with a single battery or $12,000.00 for the two-battery setup. What you get is a unique, quality-built machine that happens to get the equivalent of 470 mpg (city).
Prices should continue to fall, so I suspect we will be seeing more and more electric bikes in the woods, on the street, and on the track in the near future. One may even appear in my garage before the next decade rolls around. But for now, I'll have to stick to fossil fuel-consuming road burners.
Videos

Check out these related posts:

Subscribe to the mailing list!
Buy the Book!
---
Please Donate to Keep the Articles Coming
If you liked this article and the many other articles on this site, please toss a buck or five into the hat. It's greatly appreciated!
Click the PayPal "Pay Now" button.
Then indicate quantity in $2.00 increments. – Example: put "2" in "QUANTITY" field to donate $4.00, "3" for a $6.00 donation, etc.
Why $2.00? Due to the PayPal fee structure, a $2.00 donation is significantly more beneficial compared to a $1.00 donation.

Thank You!
---
Check out these posts:
---
Support Riding in the Zone: Buy a book