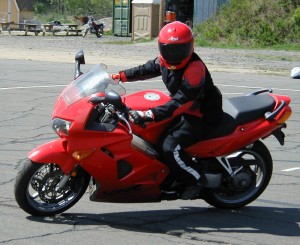 The biggest problem riders have when dealing with hairpin turns is their anxiety about being able to make the turn. It's a good idea to practice tight turns in a parking lot before you encounter challenging hairpin turns. Read more about slow speed riding techniques.
Slow Approach
One of the most likely reasons for a crash in a corner is entering too fast. When dealing with downhill hairpin turns, you also have the additional force of gravity pushing you downhill.
The trick is to get your bike slowed early and smoothly and then carry a bit of brake force past turn in to keep the bike stable, Read about trailbraking for more detail. Just be sure the surface is clean enough to allow slight braking while cornering.
Throttle On
When making slow turns, it is important that you maintain slight, steady forward drive for stability. If you chop off the throttle, you'll probably fall.
A bit of forward drive takes some of the load off the front tire when going downhill and gives you forward momentum when going up a hill. It also maximizes ground clearance.
But, be careful. If you are abrupt with the throttle, either by accelerating too hard or by chopping off the throttle, you risk running wide, overtaxing the tires and upsetting the chassis and balance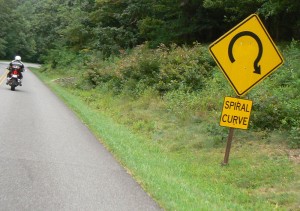 When approaching a downhill hairpin curve you need to slow down more to manage gravity, but also to allow you to crack the throttle slightly for maximum stability. From a slow entry speed, give the bike enough throttle (as soon as you begin to lean) to maintain steady drive through the whole curve. Try not to decelerate. Be sure to look well into the turn, at the corner exit.
Uphill Hairpins
When going uphill, you can approach with a bit higher speed. But, slow down enough to allow steady throttle throughout the whole turn. Be sure not to use too much throttle that you cause the front tire to lose traction and "skate", which can push your bike too far to the outside of the turn. You also don't want to overload the rear tire with too much acceleration force. Steady, gradual throttle at the beginning of the turn is the key. Again, keep your eyes pointed all the way to the turn's exit.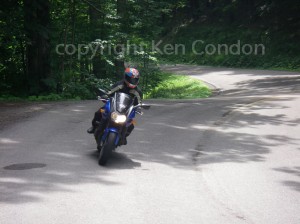 Enough Speed
Whether going up or down hill, you need to keep your speed above about 10 mph to maintain balance and stability. Sometimes, people simply fall over because they are going too slow. At very low speeds, slight deceleration or shift in body weight (tell passengers to remain relaxed, but still) is enough to upset balance and cause a tip over. Aim for smooth, steady drive.
Look Toward the Exit
Your eyes help direct your bike to where you are looking so look where you WANT to go. Turn your head to ratchet your eyes through to corner, always looking to the next visual target…entry, apex, exit. Read more about visual skills here.
What's My Line?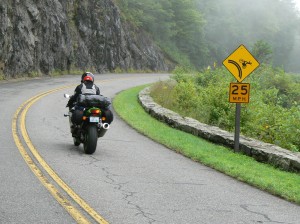 Try to select a cornering line that allows you to get your steering inputs done early and so the throttle finishes the turn. This usually means an outside-inside-outside path of travel. There are many advantages to this line, including a wide view through the turn and the ability to perform a quick turn-in that gets the bike turned early. It's common for riders to fall in slow, tight corners because they introduce mid-corner steering inputs at the time when the front tire is already working hard.
Obligatory Crash Video
Here's a video of my friend Matt who found out how a slight miscue in a slow, tight turn can put you on the ground. He was a rather new rider at the time and was spooked by the traffic. The bike was borrowed, so it was not familiar to him, either. He was unhurt. Erik from Twisted Throttle evaluates the crash protection from SW-MOTECH.

Why do you think Matt crashed? I'll give my opinion in the comments below after some of you respond.
What tips do you find useful when dealing with hairpin turns?
---
Please Donate to Keep the Articles Coming
If you liked this article and the many other articles on this site, please toss a buck or five into the hat. It's greatly appreciated!
Click the PayPal "Pay Now" button.
Then indicate quantity in $2.00 increments. – Example: put "2" in "QUANTITY" field to donate $4.00, "3" for a $6.00 donation, etc.
Why $2.00? Due to the PayPal fee structure, a $2.00 donation is significantly more beneficial compared to a $1.00 donation.

Thank You!
---
Check out these related posts:
Support Riding in the Zone: Buy a book